Campus visitation for Spring 2019 semester is now open! Additional dates and times will be added periodically throughout the semester, so please check back on our Events Page for updates.
Campus Visitation Program
Our Campus Visitation Program is available throughout the academic year. Spend a day (or just a couple hours, if time is tight) at Haas, experiencing life as a Berkeley MBA student.
Carefully coordinated by our Haas Student Ambassadors, your visit will include the opportunity to sit in on a class, along with the following:
Lunch with current students
Q&A with admissions representatives
Student-led information session
Check for available dates and register now. →
Visiting a Class
When registering, you will be asked to select a preferred class to visit. We typically offer morning (9am–11am), afternoon (2pm–4pm), and evening (4pm–6pm) options.
Spaces fill up quickly, so register early for more options.
If class visits are full on the day you're coming to campus, you're still welcome to participate in the activities listed above. Just select the "No Class Visit" option when registering.
Typical Campus Visit Schedule
Here's what your day might look like when you come to visit.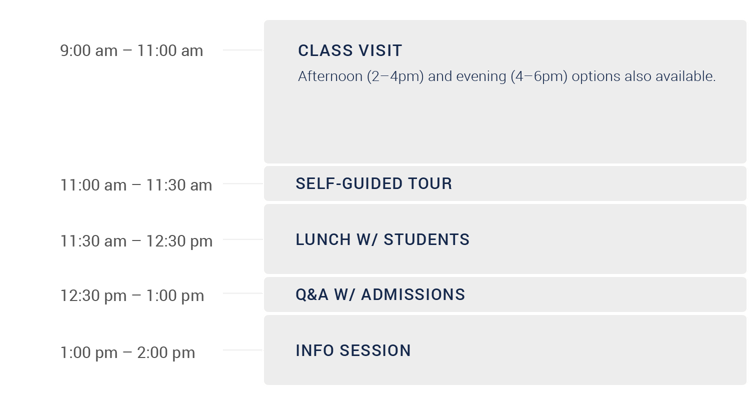 We look forward to meeting you on campus!
Drop-In Advising Sessions
Drop-in advising sessions are available year-round without advance registration.
Visitors may take advantage of drop-in advising with an admissions or financial aid representative Monday through Friday, from 9:00 AM to 4:00 PM.
---
Location Address
For Visiting
Haas School of Business
2220 Piedmont Avenue
Berkeley, CA 94720
Mailing Address
For Correspondence
Full-Time MBA Admissions
Haas School of Business
430 Student Services Bldg #1902
Berkeley, CA 94720-1902